As Told by Sheri
For those of you who know my mother's side of the family, you know that we often do some crazy things. One family tradition is "The Green Bag."
When my cousin, Rebecca, was turning 21 (or so) she complained that as you get older, you receive fewer gifts for your birthday - and it just isn't as much fun. This inspired my mother (the infamous Jenni Reusser) to wrap up a TON of gifts... most of which were junky things she found around the house and didn't want anymore. One was a very distinctive green dress.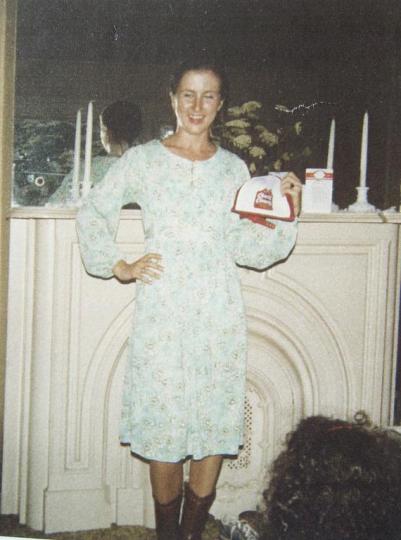 Rebecca opened the green dress and wasn't too sure if it was a joke or not. After all, it was the 1970's and the dress was exactly her size. She looked great in it, too. There's even a picture to prove it! When she returned home to California, my mother discovered she'd left the dress behind and sent it to her. That Christmas... guess what my mother received from Rebecca. You got it... the green dress.
This lovely (??) dress was passed around the family for several years. When my grandmother wrote a book we even arranged to have a friend of my mother's arrive at the book signing wearing the dress. In 1985, Rebecca was in possession of the green dress and turned it into a green handbag because she knew we'd have someone wear it to her wedding. Chicken! (Of course she was correct!)
Since then... The Green Bag has continued to circulate among the members of our family. It has delivered a butterscotch pie for a birthday, flowers for Thanksgiving, greeted planes at the airport and flown from a flagpole. It has traveled to Greece, China, Germany and England as well as having been all over the U.S. It's been to bridal showers, in the delivery room and once was mistakenly given to a mother-in-law who had NO clue what to make of this God-awful bag.
The bag currently in existence is not the original one. The first bag was lost in the mail in 1996 and seems to be gone forever. (A reward is offered for its safe and happy return.) However, there was enough of that lovely (??) dress left to make another Green Bag - and so our fun continues.
The entire family gathered at the end of June 1999 to celebrate the 50th birthday of the back steps of my mother's childhood home (another long story) and The Green Bag made its usual appearance. However - IT HAS SINCE DISAPPEARED!!! (See How I Spent My Summer Vacation.)
Meanwhile, a new and exciting (??) website has popped up, dedicated to solving the mysterious disappearance of The Green Bag. It's our own sick version of "Where's Waldo?" or "Where in the World is Carmen Sandiego?" only THIS is much more fun, eh?
Check the site regularly as it is constantly changing and will surely become even more exciting in the future. And so you know, the beautiful mint green flowered background is none other than The Green Bag itself!
This is my version of the History of The Green Bag. I am hoping that some of my wonderful family members will add any missing details. I also invite those of you out there to share with us a time you received or gave The Green Bag as a gift or a time when you were in on planning the surprise for someone else.
Lovingly, Sheri (Reusser) Stallsmith
Update from Vicki - July, 1999
Sheri's "History of the Green Bag" is very well written and tells the story entertainingly. I would only add that the bag, thanks very much to the cooperation and good humor of friends and co-workers, has also visited France and Corsica. - Vicki